Building Glitterhouse Bases
Forming the Base
The base for a vintage-style cardboard structure is a rectangular "box" that is primed, and sometimes decorated before the house and trees are installed. Howard builds his so that they are lightweight, but solid, with a finish reminiscent of the original cardboard mid-19th-century glitterhouses. The length and width of the base varies with the structure - usually you want to add a few inches to allow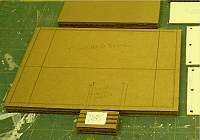 room for gates, fences, or hedges to dress up your buildings. The height, on the other hand, is usually at least 1/2". For a very large structure, you may want to make the base even thicker.

You may form the box either of two ways:
Corrugated Cardboard Method - Make a base from layers of corrugated cardboard glued together in a sandwich.

If you choose this method, you will then wrap and glue a strip of cereal-box cardboard all around it to camouflage the rough edges of the corrugated cardboard. This is Howard's preferred method, but sometimes for very small houses, he uses the following method.

Built-Up Box Method - You may form the base from thin cardboard like posterboard or the cardboard from a cereal box. Build it like a department store "gift box" with a lid. Place layers of scrap cardboard inside the box to keep the box from caving in when the house, fence and trees are added.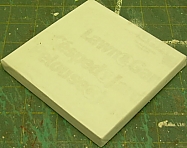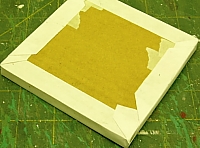 Finishing the Base
After the base is built, you then cover it with white bond acid-free paper just like you would wrap a gift, except that all surfaces of the paper cover must be glued down to the box. A glue stick works great for this.

When the glue has dried, paint the box with the base coat you have chosen. In most cases this is a flat white latex or acrylic paint. A flat white interior wall paint is nice because it suggests the "chalky" feeling of the paper-mache finish typical of many early glitterhouses.
Conclusion
How the base is finished depends on what the rest of the house looks like. If the house is set in a season other than winter, you may want to paint the base with a different colored topcoat before you attach the house and accessories.
A Note from the Designer: Now that I'm in "retirement," this hobby has become a sort of avocation for me. Several folks have commissioned me to build specific houses for them. So if you'd like me to "bid" on a cardboard house for you, or if you have any questions at all, please visit our Orders page. - Howard
Also, if you have a similar project you'd like to share with your fellow readers and hobbyists, we'd love to add it to our site, and we'll be sure to give you full credit for your contribution.
Other Articles about Glitterhouse include:
Other Putz House Resources:
"Papa Ted's Place" Ted Althof's extensive resource about vintage pasteboard houses. Includes some history, many photos from other people's collections, and resources to help you build your own. The links below will take you right to the approprate page on "Papa" Ted's site. You'll find lots of other pages to look at while you're there, though.
LittleGlitterHouses.com. - Putz house builder Howard Lamey now has his own site, begun in December, 2007. You can commission your own custom-built glitterhouse, or buy a precut kit and finish it yourself.
Other Articles that Discuss Putzes and Christmas Villages of the mid-20th Century:
About Nativities - Describes how German-American Nativity displays (the original "putzes") grew into communities and landscapes that included pastboard, glittered houses and even electric trains.
What Do Trains Have to Do With Christmas - Describes how electric trains contributed to the communities many families set up at Christmas, with some details about the elaborate "Christmas Gardens" of the Baltimore/DC area.
Author Antoinette Stockenberg's home page - includes photographs and comments on putz houses and life in general.
---
To return to the "Howard's How-To" page, click here.